Mask Size Calculation
Our templates are designed for a standard adult man (22" +/- 0.25" head circumference). The calculation is estimated because we have different glabella width (the skin between the eyebrows and above the nose) and face shapes.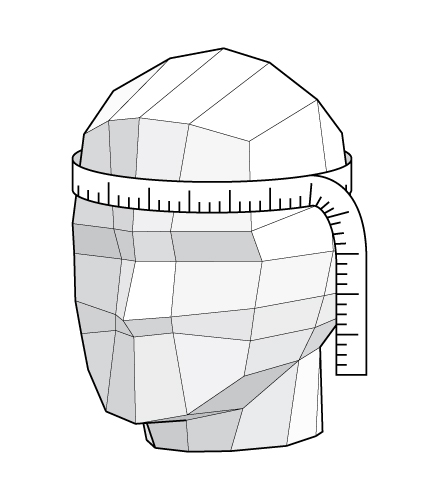 All of our masks are designed for an average adult, unless otherwise specified. You may use the size chart below or the Mask Size Calculation above as reference.
The chart and calculation are estimated because we have different glabella width and face shapes. Print size larger than 100% may need to be printed on tabloid-size (11" x 17") paper.
| Head Circumference (inch) | Print Size (%) |
| --- | --- |
| 18" | 81% |
| 19" | 86% |
| 20" | 90% |
| 21" | 95% |
| 22" | 100% |
| 23" | 104% |
| 24" | 109% |
| 25" | 113% |
| 26" | 118% |
80 lb - 100 lb (216 - 270 gsm) coverstock(not index paper) is a suitable medium for paper use. You need something that has an excellent plump, score, and fold. For glue, we advise you to use the templates with extra strong glue stick (Pritt), quick-drying glue, or a Double Sides Adhesive Roller(tape Runner) so as to adhere to the model piece. Use glue with a fast curing time so you don't have to wait for parts to dry before continuing.
In traditional origami, Valley Folds and Mountain Folds have been included.
Valley fold - Folding is done following the dash line " - - - - ", and folding downward (as if into a valley). You may either fold left to right or vice-versa.
Mountain fold - Folding is done following the dash-dot line " - . - . - ", and folding upward (as if creating a mountain). The crease will be on the top and the paper is folded behind. The letter "M" above the "dash-dot" is for improved visualization.
Follow the gluing order, then find the matching numbers and glue each pair of flaps and tie the edges together (put the glue on the back of the gray flap). The gluing flap will always go on the inside of the model.
The models and designs are only appropriate for personal use. The unauthorized copying, sharing, or distribution of template and design materials are strictly prohibited.
It all depends on the model, the shape of your head, and the style of your glasses. We recommend you wear contact lenses instead of glasses.